It is so exciting to me that a pile of fabric...
can turn into little odd-shaped pieces...
that can turn into a raccoon climbing a tree!
My uncle always wanted a pet raccoon when he was a kid, so when I saw the paper-pieced pattern to make this cute raccoon - I knew I had to make it for him! Only the raccoon portion is in this issue, with the rest of the animals in the next. That's ok though, I really wanted to just make the raccoon anyway.
Thanks, Grandma, for subscribing me to Quiltmaker!
This is how it all turned out! I am so happy with the results! I had fun with the stitching. The brown-ish fabric is plain; I added the dark brown stitches on top to look like tree bark. I also did a stipple stitch on the white to make it look like snow/wind.
I also made little pom-poms for the nose and hat using fabric circles and a little bit of stuffing. The eyes were hand-stitched with white embroidery floss.
I made three loops of fabric across the back, and sewed it on when I machine-stitched the binding on the front. I then added a thin dowel to be hung by. If I could change one thing, I would have used white thread in my bobbin, so that way the tree bark stitching wouldn't be so dark on the back (I used dark brown thread).
Another fun thing about this project - the total cost was $2.67 in order to buy two shades of gray and the dowel. Everything else I had in my fabric stash (or in my mom's stash).
You want to know something? This is the second time I have made a paper-piecing project. I am really proud of the results. I taught myself by reading a book I checked out from the library. Here is my first project:
I just made one block from the book using scrap fabrics. It is suppose to be a rose. From rose to raccoon - not bad!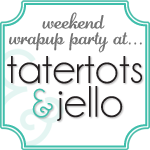 Pin It